Congo Na Paris: the fifth edition scheduled for April
17
Avr.
Presented by the organizers as the socio-economic fair and cultural festival of the diaspora, Congo Na Paris returns in spring 2022.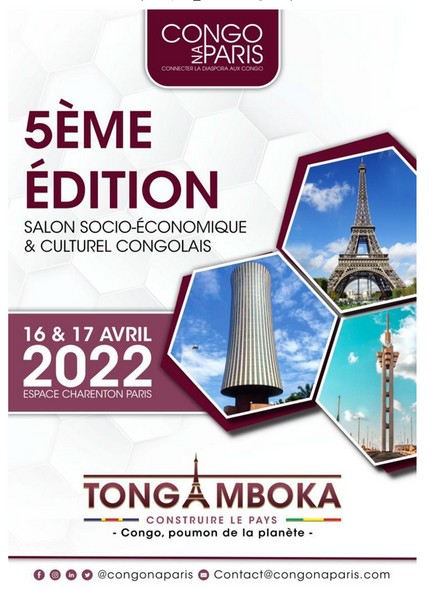 On April 16 and 17, Paris will live at the time of the vision of the development of the Congo Basin and the territories of Central Africa. For this fifth edition, the theme chosen is "Tonga mboka - building the country: Congo, lung of the planet".
For a weekend, the organizers invite you to come and participate in the event that has become unavoidable in the space Charenton, Paris, a place of sharing and exchange for the Congolese diaspora, Afro descendants and all lovers of the continent.
On the program: round tables, meetings, committed show, projections, fashion shows, new initiatives and novelties ... Faced with the social, health, economic and climatic challenges that impact us globally: only dialogue, real solidarity and joint actions will allow the emergence of equitable solutions.
In addition, Congo Na Paris wants to highlight the urgent need for a new narrative that is heard on both sides of the Mediterranean. For, according to the organizers, the diasporas are an indispensable asset in the development of different inter-state relations.
This meeting is definitely positioned as a space of facilitation, a platform for reflection and proposal of solutions to redefine the relationship between Central Africa and Europe.
In this perspective, the organizers count, as in previous years, on the enthusiasm and massive participation of the public.
"As such, we will rely again on your contributions, relays and media partnerships to make this fifth edition a memorable joint success! ", they concede.
Source: www.adiac-congo.com
---