Togo/Novissi Program: AFD supports Togo with over CFAF 6 billion
The French Development Agency (AFD) and the Togolese government signed a second financing agreement for €10 million (about CFAF 6.5 billion) to help vulnerable populations. The agreement was signed by the Minister of Economy and Finance, Sani Yaya, the French Ambassador, Jocelyne Caballero and the Director of AFD in Togo, François Jacquier-Pélissier.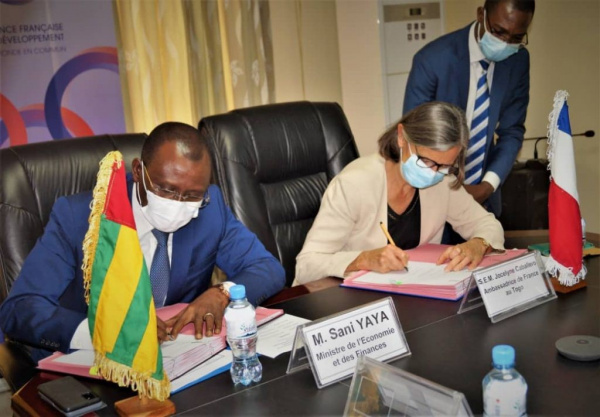 This new financial support, we learn, will allow the Togolese authorities to extend access to cash transfers to 45,000 new beneficiaries. These beneficiaries, precisely the most vulnerable, will receive 15,000 CFA francs per quarter for 18 months, 75% of them from rural areas and 25% from urban areas. They will be identified in the 100 poorest rural cantons of Togo and in precarious urban areas.
This support, which is granted in addition to the CFAF 2 billion allocated in 2020 to support the NOVISSI Universal Solidarity Income Program, will make it possible to address, in the medium term, the economic consequences of the health crisis for the most vulnerable.
"This new project is perfectly consistent with the Togo 2020-2025 government roadmap, which places a strong emphasis on promoting social inclusion. The realization of this funding for the poor and vulnerable populations is a happy event that should be welcomed," said Sani Yaya.
Through this project, France, "includes social policies in the wide range of its commitments to access to basic services in Togo," said its ambassador to Togo.
Note that this new financial support from AFD to Togo, brings to 136.57 billion CFA francs the total provided to the country in carrying out various projects.
Source: www.togofirst.com
---