Congo/Business: CFEC at the heart of the challenges of women entrepreneurship in Congo
14
Janv
Initiated by the club of women entrepreneurs of Congo in partnership with the National Union of Economic Operators of Congo (Unoc), the day dedicated to women entrepreneurship will be held on January 14. It will focus on capacity building to support the participation of Congolese women entrepreneurs in socio-economic development, to propel their action by offering them a better influence.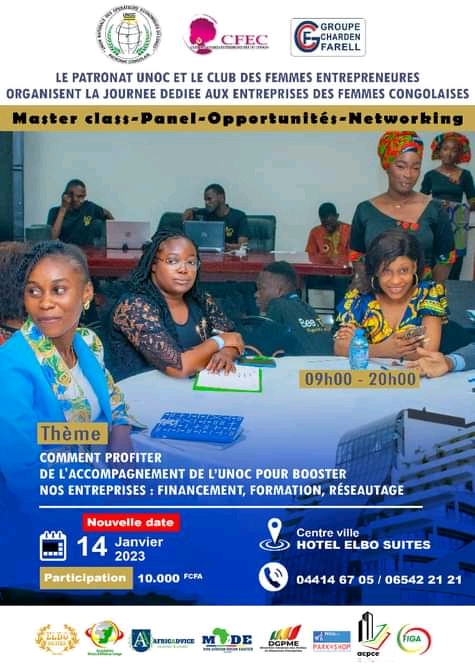 On the theme "How to take advantage of Unoc's support to boost our businesses: financing, training, networking", the activity will involve influential personalities from the business world who, through their backgrounds and experiences, will be a source of inspiration for women, to enable them to gain confidence in themselves, on the one hand, but above all to make participants understand that the business world is not just a place for women.The first part of this event will be dedicated to the development of the women's business community and will be a source of inspiration for the women, allowing them to gain self-confidence on the one hand, but above all to make the participants understand that the road to success is not linear, but full of obstacles to overcome, on the other hand.
"The first part of this meeting will be dedicated to the master class, i.e. training and information with institutional partners such as the ACPCE. The second part will be dedicated to sharing experiences and mini-trainings with our partner Charden Farell who will conduct a workshop on financing to enable participants to understand the term used when they apply for funding," explained Seraphine Ekoa, founder of the CFEC.
This theme, as she explained, aims to operate a paradigm shift by taking into account women in the perspective of the entrepreneurship ecosystem in Congo. " With commitment and adequate resources, women have the potential to transform the world," she said, concluding: "The big problem of women's entrepreneurship in Congo is the lack of information sharing, that is to say, among ourselves, we do not inform each other, we do not socialize. This meeting will be a sharing of information and networking because there are many things that we can do already with players on the market .
Source: www.adiac-congo.com
---