Decarbonized Cities Webinar: The technical, economic and social conditions for transforming the built environment in decarbonized cities
22
Nov.
The next webinar on the decarbonized city which will take place on Tuesday, November 22, 2022 from 12:30 to 13:45 is a workshop on the transformation of the built environment in decarbonized cities and aims to present a sample of some proposals and their implementation conditions. It will be animated by Ms. Célestine KETCHA COURTÈS, Minister of Housing and Urban Development in Cameroon; Mr. Ousmane SOW, Director of the Urban Agency of Greater Bamako, architect-urbanist and Ms. Ahouéfa Madiana POGNON, Sustainable Building Engineer and teacher.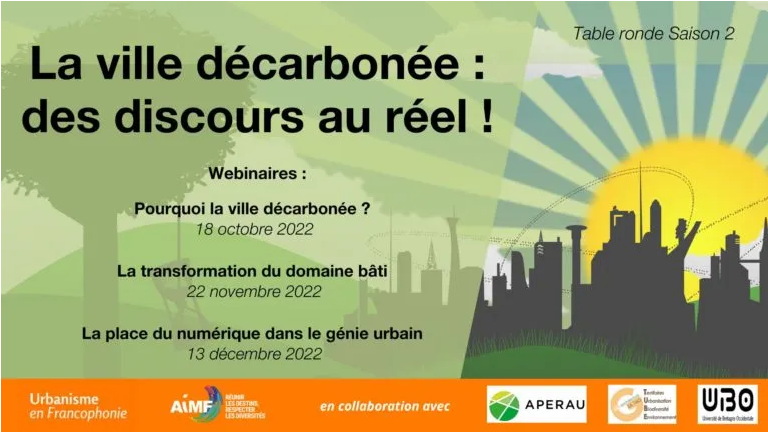 The building sector, one of the world's largest consumers of energy and producers of CO2 emissions, represents an essential lever for the energy transition and decarbonization of the city. In addition to the construction of new high-performance buildings, the energy renovation of the existing building stock today represents a considerable source of carbon savings and is one of the challenges of public decarbonization policies.
But the needs and resources are not the same everywhere. While some cities are able to undertake vast renovation programs and commit to strict sobriety in terms of land use, others have to make do with obsolete buildings or vast informal settlements and must constantly accommodate the flow of new inhabitants. While the decarbonized city is a common horizon for these disparate situations, there is no single path to get there. However, there are technical responses, experiments and territorial projects that are a common source of inspiration.
Addressing the issue of the low-carbon city therefore means taking into account the complexity of a system in terms of its life cycle, the large number of stakeholders and actors (owners, users) and the heritage, cultural, technical and architectural issues involved in preserving the original building. But it is also to affirm that this complexity should no longer be used as a pretext for immobility. This is why this workshop aims to present a sample of some proposals and their implementation conditions... To invent a low-carbon city adapted to territories.
Participate in this webinar by registering through the link: https://us06web.zoom.us/webinar/register/WN_J1yAK2kXTSmwzBQNt0iQNA
Source: lemondelocal.com/
---