France/First inter-regional meeting on orientation on November 15 in Orléans
15
Nov.
Régions de France and the Centre-Val de Loire Region have joined forces to organize the first inter-regional meeting on guidance, in partnership with Centre Inffo. The aim of this first event is to highlight innovative regions that are concerned with respecting a framework of values to help young people make their career choices.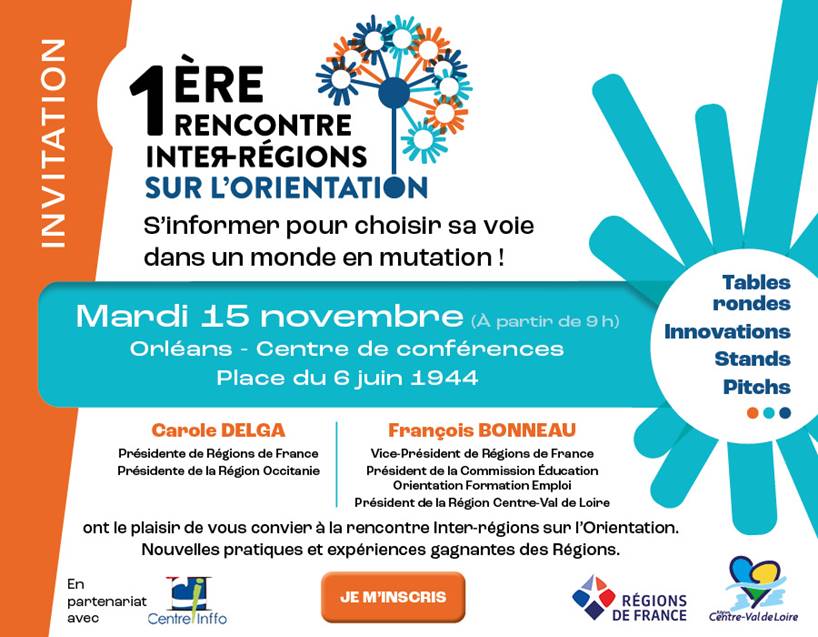 Date and location:
November 15, 2022, from 9 a.m. to 4 p.m.
At the Orléans Conference Center, Place du 6 juin 1944, 45000 Orléans
Free access upon registration here
Target audience:
This is an event of national scope that is aimed at political and technical representatives of the various Regions as well as actors of the Regional Public Guidance Service, National Education and the business world.
Objective
To promote innovative Regions in the events they organize, in the relationships/mobilization of local actors, in the tools, in the relationship with schools and educational institutions.
Regions concerned with respecting a framework of values: freedom to choose one's professional future, neutrality of information, free access and proximity.
Presentation areas will be offered by the Regions, open to visitors throughout the day, and organized into 4 themes: events, tools, cooperation, Campus des métiers et des qualifications .
Contents / sequence of events
10:00 - 10:30 am Introduction by President François BONNEAU and the Minister of National Education and Youth.
10:30 am - 12:00 pm 1st round table " How to accompany young people in their choice of career path at a time when the economy, employment and professions are undergoing major changes? "
Speakers: David MARGUERITTE, Delegate President of the Training-Employment Commission of Régions de France, Isabelle ANDRIEU, Orientation collective, Cécile JOLLY, Project Manager, Prospective des méand qualifications, France Stratégie, Antoine DULIN, President of the Commission on the integration of young people at the Conseil d'orientation des politiques de jeunesse (COJ).
3 "1 Region/1 winning experience" will be integrated into the round table.
Concluding words of the Great Witness: Fabien TRUONG, sociologist and professor at the University of Paris 8.
12:00 - 13:00 Stroll through the stands
1:00 pm - 1:40 pm Meal on table
1.40 - 2.30 pm Stroll through the stands
2:30 - 4:00 pm 2nd round table: " What winning strategy to meet the information needs of young people? "
Speakers: Alain AYONG LE KAMA, Rector of the Orleans-Tours Academy, Frédérique ALEXANDRE-BAILLY, Director General of the ONISEP, Kamel CHIBLI, President of the Education-Orientation CommissionKamel CHIBLI, Deputy President of the Education-Orientation Commission of Régions de France, Vice-President of the Occitanie Region, Florence GELOT, Director of Education-Training at MEDEF.
Source: regions-france.org/
---