Canada/The City of Gatineau adopts its next budget with a 2.9% tax increase
Gatineau Mayor France Bélisle has succeeded in her bid. Her second municipal budget was adopted by the municipal council on Tuesday evening, during a special meeting.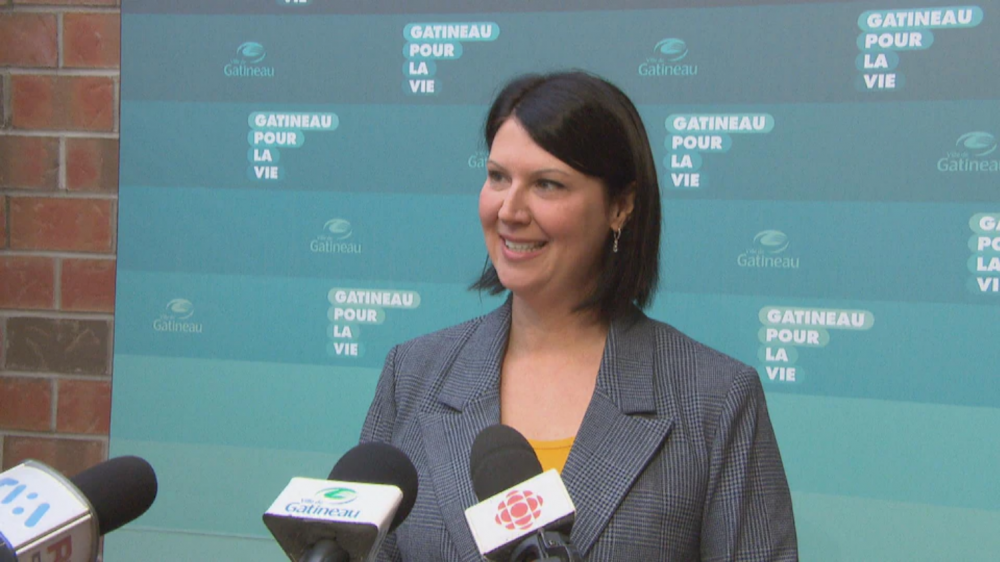 Homeowners will see a 2.9% increase in their tax bill for the coming year. This represents an increase of $89 for a home with a median value of $258,000.
Citizens will be able to pay their taxes in four installments.
The $744.4 million budget also includes a tax increase for businesses, the tabling of the long-term financial plan, as well as improved services in the areas of snow removal, urban forestry and the ecological transition.
The Mayor of Gatineau, France Bélisle, described the budget as balanced. She is pleased with what the municipality has been able to develop, given the city's financial realities.
I find that there is a balanced position in the tax that we are proposing to citizens and I am proud of that," she said at a press conference on Tuesday morning.
"Between lucidity, ambitions and your needs, this council must advance major projects to meet our growing city."

- A quote from France Bélisle's speech before the budget vote
France Bélisle focused on the city's long-term financial plan, describing it as the ultimate tool for setting the tone and, more importantly, the vision for the next ten years. She also touted a tax increase that is among the lowest in Quebec.
Her climate plan is a first for Gatineau, as is a new recurring fund for land acquisition, according to the mayor. Both will be endowed with $1.2 million each. Both the land acquisition and the climate plan will be accompanied by a recurring investment for a ten-year period, which would mean a total of $81 million allocated to each initiative.
The Budget
The City's rates are increasing and so are its expenditures, by approximately 6% over 2022, as outlined in the budget review.
Given inflation, supply challenges and labour shortages in many areas, the budget is marked by a 2.9 per cent tax increase for residential and 3.9 per cent for non-residential. The rate for waste management will therefore increase from $138.84 to $149.85.
The tax increase for businesses should allow the City to catch up with other major cities in Quebec where the non-residential tax rate is higher. The 3.9% tax increase is expected to generate $2.4 million in additional revenue for the municipality by 2023.
Council also approved approximately $4 million in service improvements, almost half of which will go to snow removal on streets and sidewalks. This investment includes the addition of permanent crews for snow blowing, sidewalk clearing and snow patrol services.
As for the City's debt service rate, it has declined in recent years from 23 per cent in 2002 to 7.9 per cent in 2023.
A "lack of vision", according to Action Gatineau
Action Gatineau had announced its colors since Tuesday morning regarding the second budget of the Belisle administration
"We will not support this budget.

- A quote from Steve Moran, Hull-Wright District Councillor and Acting Leader of Action Gatineau, Tuesday morning
There is no clearer demonstration of what a city's vision is than the budget," said Moran. It is clear [...] that we do not share the overall vision. I would also say that there is a lack of vision.
The issue of day camps, among others, is particularly disturbing to the members of Action Gatineau.
Where we feel there is a lack is in the response to the aspirations and needs of Gatineau families," says Moran. There is a 30% increase this year. We wanted it to be even higher in the years to come, but in our opinion it is unjustified and it is something that is important for the people of the city.
We just don't know what impact it's going to have on vulnerable families," he continued. This is something that we have worked on, we have tried to see changes and we have not succeeded.
In addition, climate, housing and infrastructure issues are particularly poorly addressed in the 2023 budget, according to Action Gatineau.
There are investments, yes, in there, but a clear vision is still missing. What is the real vision to change the way the City responds to the climate crisis?
He added that the budget also lacked many items. We were talking about revenue diversification, but we don't see much action. We were talking about eco-taxes, but we haven't seen any action on that.
The leader of Action Gatineau was keen to highlight a few good moves included in the budget. Among these, the program of equity, diversity and inclusion and the continuity of the 211 program, a service to refer residents to community resources, among others.
We want to highlight that, because the administration has done a good job on some levels," he acknowledges.
Source: ici.radio-canada.ca
---