France/Amboise: buy second hand clothes on the market, thanks to La friperie ambulante
Second-hand clothes are very popular but it is rare to find a second-hand shop on a market. An Amboise woman started it.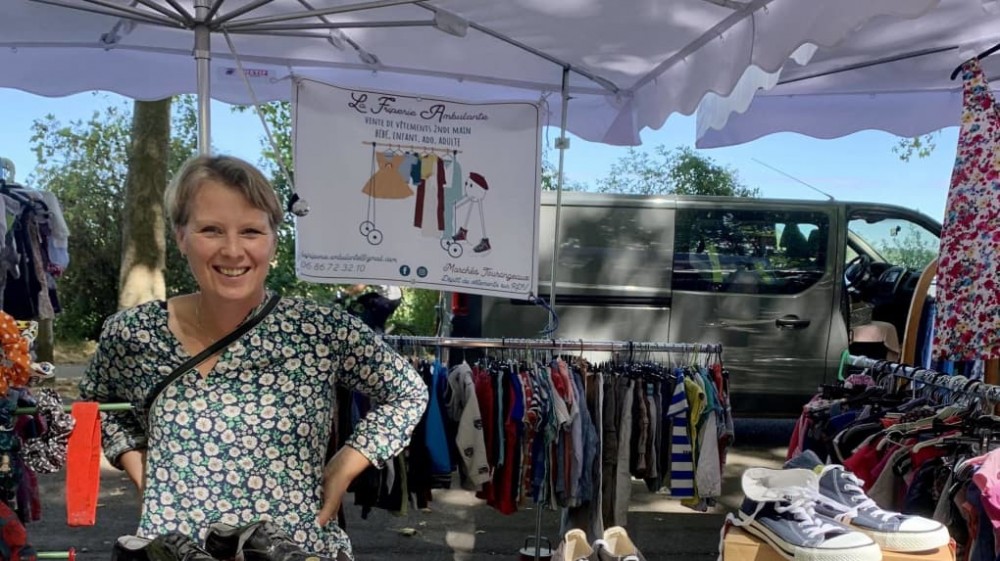 I was inspired by my daily life to create a project in which I find myself. Mélanie Renault, who is familiar with thrift shops and markets, decided to bring them together to create La Friperie Ambulante in May. The Amboisienne offers second-hand clothes on the stalls of the city's markets, every Sunday and Friday during school vacations. A local circular economy initiative.
"It comes from Amboise, it's only local!" Because to get supplies, Mélanie Renault can count on donations from people around her. "People who move, who empty their attic, give me what they don't want to keep," she explains. I then sort it out and sell anything that can be returned to the track. It comes from Amboise, it's all local!"
The garage of her house has become her workshop. Numerous bags in which clothes are arranged by category and size are piled up. " My husband and my four children support me completely in this project", smiles the saleswoman.
On the market of Amboise, many are the curious to stop at her stand. Marie-Lise comes from Angers (Maine-et-Loire) for a family vacation. She buys several clothes for her two children. For her, the second hand is an evidence, "to limit the impact on the planet, and then it allows to please with quality but at lower cost, she confides. It's all positive."
Prices range from €1.5 per item for baby clothes to €4 for dresses in adult sizes: unbeatable. " Often people are surprised when they learn that it is second hand, " explains Melanie Renault.
Ecological initiative Beyond the economic interest, the initiative is also virtuous on the environmental level, when the fashion industry emits 1.2 billion tons of CO2.The fashion industry emits 1.2 billion tons of greenhouse gases each year, according to figures from the Ademe (French Environment and Energy Management Agency). That's as much as the airline and maritime industries combined.
The mobile thrift store also travels to private homes. " People tell me their needs and I come to show them what I have." The seller now hopes to acquire a fixed place on the markets, during the annual commission of next March, to continue to develop its project.
Source: www.lanouvellerepublique.fr
---