Burkina Faso/Women's rights and health in Burkina: More than 170,000 direct beneficiaries in two years
Equipop and its partners the Association of Women Lawyers of Burkina Faso (AFJ_BF), the association Voix de femmes (VdF), and the Pananetugri Initiative for Women's Welfare (IPBF), proceeded, this Thursday, March 23, 2023 in Ouagadougou, to the closing of the project "Women's Rights and Health in Burkina Faso, Preventing and Reducing Vulnerabilities in the Context of Crisis and Post-Crisis Covid-19".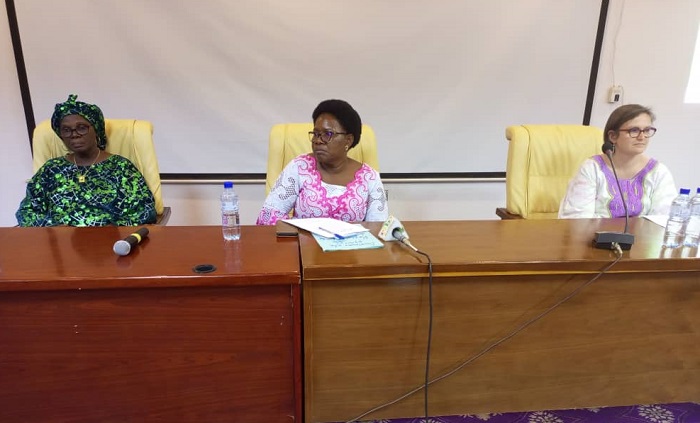 The objective of the project was to strengthen the empowerment of the most vulnerable women and girls in times of health crisis (Covid-19) by improving their leadership and the holistic management of GBV (gender-based violence).
According to Ouangraoua Raketa, project manager and representative of the NGO Voix de femmes, the project aimed at strengthening the power and capacity of women to act so that they can take action.The project aimed to strengthen women's power and capacity for action so that they would be more resilient in the face of the crisis and become agents of change, whose voices count in decisions.
It has been implemented in three regions, namely the Centre, the Centre-North and the Hauts-Bassins, and has reached more than 170,000 direct beneficiaries.
"Specifically, the project aimed to ensure and improve the holistic care (medical, legal, judicial and psychological) of women survivors of gender-based violence within the framework of the restrictions related to the COVID-19 pandemic. Secondly, to strengthen the empowerment of women and girls in the face of the socio-economic consequences of covid-19 by promoting the emergence of young girls and women leaders capable of bringing about significant and positive change among their peers and communities. Finally, to ensure that the rights of women and girls and the specific needs of the most vulnerable girls and women are taken into account in the measures taken by policy makers in the response to the coronavirus," she said.
Following the closing workshop of the project, a mobilizing event was launched. The organization of this mobilizing event has several objectives, according to Ouangraoua Raketa. "It aims first to present the experiences and achievements of the project to all stakeholders. It will also be a moment of exchange and discussion with the actors of the project as well as the donors but also with the stakeholders on the issues of women's rights, eradication of gender-based violence. It will also collect recommendations and suggestions on the project," she explained.
Source: lefaso.net/
---