Togo/Entrepreneurship: towards the creation of an Italian-Togolese association for entrepreneurs
The meeting between the Italian delegation and the private sector, bringing together Togolese entrepreneurs as part of the mission to explore investment opportunities in the private sector has kept all its promises. This meeting which serves as a networking workshop, roundtable between investors and entrepreneurs was held this Tuesday, March 21, 2023 in Lome. The creation of an Italian-Togolese association is also on the agenda of the mission.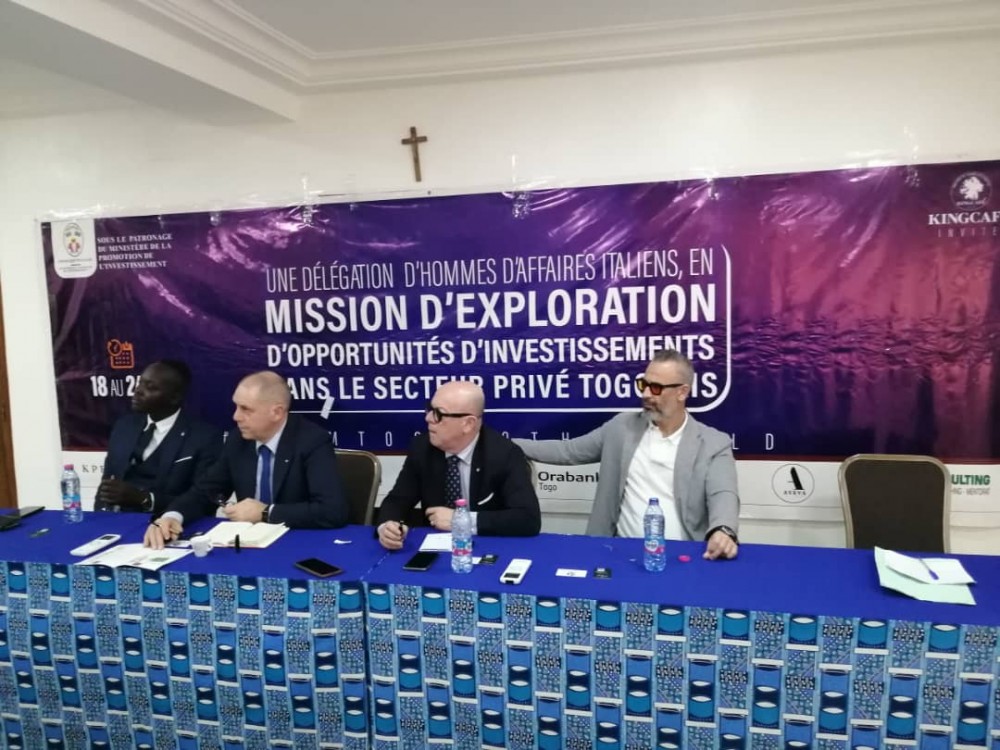 The initiative carried by King Café, under the high sponsorship of the Ministry of Investment Promotion has received favorable mention near the Togolese authorities. The Italian delegation present on Togolese soil since Saturday, March 19, held working sessions at the Ministry of Promotion and Investment, BOAD, FAIEJ, the Chamber of Commerce and Industry of Togo (CCIT) to finish at the Ministry of Trade, Industry and Local Consumption where it was able to meet with the Italian delegation.re of Trade, Industry and Local Consumption where it was discussed the agreements undertaken by some private sectors with Italian investors already present on the territory in the agri-food field. After an overview of the presentation of the Togolese economic environment, Antonio FORNARO, Director of SAIL Group, Dr. Saverio Benedetto of Etude Consultation and Pino FOMAROLA, of Morola Caffée expressed the will to accompany Togolese entrepreneurs in the field of coffee, agribusiness, real estate, wood following a detailed mapping of companies with innovative and profitable projects.

Koami Elom Paul Kpelly, Managing Director of kpely Industries, gives the following ideas: "The meeting between the private sector and the Italian delegation to talk about opportunities and business exchanges through a project that the delegation carries within it, the creationation of an association of Italian-Togolese entrepreneurs which will serve afterwards to become an Italian-Togolese chamber of commerce will serve as a bridge of continuity of exchanges between the two countries " he explained.
The opportunities are very important in terms of exchanges, knowledge, materials and financial, and Italy known for its SMEs and SMIs and which participates in 80% of the development of the country: "The hope is that their knowledge, their know-how can be used in Togo first, through fruitful exchanges between companies that have interesting sectors where our Togolese brothers are already moving forward to make win-win partnerships."Paul Kpelly said. The Italian-Togolese association will be established this Friday, March 24, 2023 with all the legal bases.
Source: informateur228.com
---