Tunisia/FAO: Launch of the new project "Biorest" on organic agriculture in Tunisia
The Food and Agriculture Organization (FAO) officially launched on Thursday a new project "Support for the development of sustainable and resilient organic agriculture in a context of climate change in Tunisia - Biorest".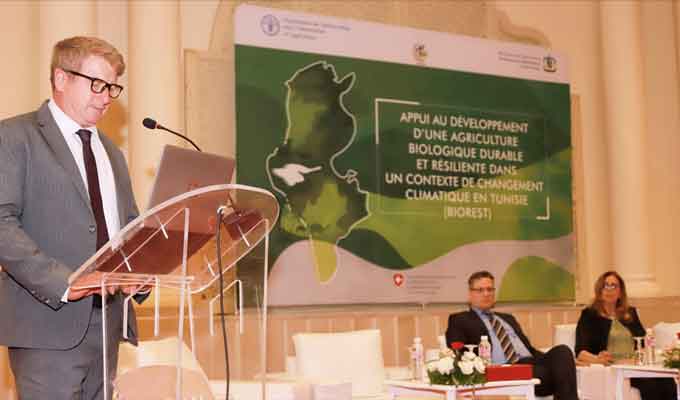 In his speech at the launch, Philippe Ankers, FAO Coordinator in North Africa and Representative in Tunisia, stressed that technical assistance is deemed necessary for organic agriculture to be a driver of sustainable and inclusive territorial development.
The Directorate General of Organic Agriculture (DGAB) and the official control laboratory concerned will come out of this project with strengthened capacity, said a statement from the FAO published Thursday.
It adds that the support will also target organic producers' organizations and their support services in order to innovate.
The resilience of organic farming systems will be strengthened in the face of climate change, natural resources will be used more efficiently and sustainably.
The organic farming sector enjoys a remarkable position in the development strategy of agriculture in Tunisia and contributes to the balance of trade in food with a contribution in 2021, nearlys of 20% of total Tunisian agricultural exports, recalls the FAO, estimating that the consolidation of this place is being strengthened through the official launch of this new project to be carried out with financial support provided by the Swiss Cooperation.
Tunisia is ranked first among exporters of organic products, but this does not hide the fact that the sector is still facing structural challenges and major constraints.
For Patrik Zimmerli, representative of the Directorate of Cooperation at the Swiss Embassy, this project comes at the right time to support the efforts of the Tunisian government towards greater resilience to climate change.
Developing organic agriculture is an adequate response and represents one of the best solutions for adaptation to climate change and offer new economic opportunities to producers working at the family scale, he said.
In his opening remarks, Samia Maamer, Director General of Organic Agriculture at the Ministry of Agriculture, Hydraulic Resources and Fisheries, has, for its part, highlighted the performance of this sector which stands out for its competitive added value in terms of quality of production.
Tunisia, an exporter of organic products enjoys a recognition and mutual equivalence undetermined, recognition granted by the European Union, the Swiss Confederation and the United Kingdom, she fat savoir.
And to recall that in Tunisia, more than 7500 producers are active, on more than 300,000 Ha of certified organic areas.
The export of organic products based mainly on olive oil and dates organic has achieved a turnover of over 700 million dinars in 2021.
The national vision to 2030 plans to position this sector as an international model supported by better governance and diversification of products other than products enjoying international recognition (olive oil, dates ...).olive oil, dates ...) while espousing the current dynamics of essential oils, carob, vegetables, products of the value chain of prickly pear and delicatessen products that year after year, are positioned on international markets.
Source: www.webmanagercenter.com
---