Mali/Local Development: A project to support the promotion of the processing of agricultural products will benefit more than 500 vulnerable households
The "Support Project for the Promotion of the Processing of Agricultural Products through Various Productive Uses of Renewable Energy" was launched on Thursday, January 13, 2022 in Tominian.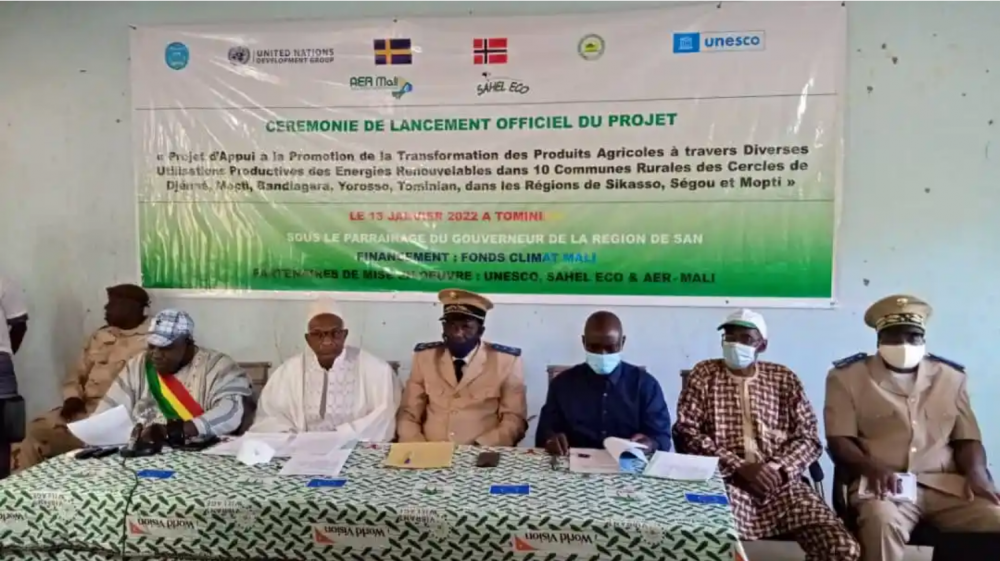 In order to mitigate the effects of climate change on populations, it is imperative to put in place initiatives capable of strengthening the resilience of vulnerable populations. This project is part of this process.
This project is the result of a multi-actor partnership in a dynamic of synergy of actions in favor of vulnerable populations. The partners gathered around the initiative are: UNESCO, the Agency of Renewable Energies -Mali, the Climate Fund-Mali and Sahel Eco.
The aim is to implement concrete actions through the promotion of the use of renewable energies in order to meet the challenge of processing agricultural products.
The objective is to help vulnerable households in 10 rural communities in the circles of Yorosso, Tominian, Djénné, Bandiagara and Mopti in the regions of Sikasso, Ségou and Mopti in the processing of agricultural products through access to modern and sustainable energy services for productive uses in order to create added value to strengthen their resilience to climate change.
Indeed, the project's actions will benefit more than 500 vulnerable households that are members of groups that will use renewable energy equipment for the processing of their products.More than 30,000 inhabitants (including 15,679 women) will be direct beneficiaries or interests in the project's intervention areas.
Sahel ECO and its partners will lead the implementation of this action with all project stakeholders at the local level.
The ceremony was presided over by the prefect of the Tominian circle. It took place in two stages. The ceremonial conference and the visit of the market stands of agricultural products and NTFPs processed by the women's cooperatives supported by Sahel Eco.
After launching the project, the prefect of the circle of Tominian, representative of the governor of San, invited the participants to a guided tour of the exhibitions of the local agri-food products of the women from the communes of Tominian Yasso, Mandiakuy and Mafouné.
Finally, this ceremony was attended by all local actors, including the Prefects of the circles in the project's intervention zones, the elected officials, the technical services, the local authorities, and the farmers.lus, technical services, technical and financial partners, NGOs working in the area, cooperative societies of women processors, the theatrical and artistic troupe, the oral, written and audiovisual press, the staff of SAHEL Eco.
Source: mali24.info
---