Gabon/Hydroelectric power plant of Kinguélé Aval: 720 Gabonese will be recruited
Sinohydro, the Chinese state-owned hydroelectric engineering and construction company commissioned by Asonha Energy, has signed an agreement with the National Employment Office for the development of the Kinguélé Aval hydroelectric plant.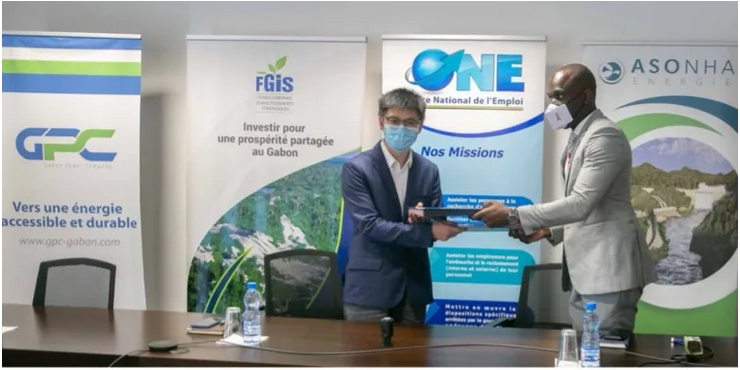 This partnership aims to optimize and structure the implementation of a recruitment plan, with the aim of promoting employment in Gabon and encouraging the creation of shared value.
The construction of the Kinguélé Aval hydroelectric power station is a 42-month project whose overall human resources will be 930 employees, including 720 Gabonese and 210 foreigners, during the peak period.
Priority will be given to local labour in order to promote the project's impact on the socio-economic development of the Kinguélé region and the Komo-Kango Department.
To this end, local recruitment concerns 38 different trades, accessible to both graduates and non-graduates. The specialties sought cover all the needs of the project: engineering, accounting, management, equipment operation, building trades, administration, environment and several other sectors.

« Encouraging Gabonese employment in the context of large-scale projects such as Kinguélé Aval promotes a transfer of skills between international and national experts and local workers. This is a significant step towards both the consolidation of a skilled workforce and the emergence of sectors of excellence in Gabon, said Hans Landry Ivala, Director General of ONE.
Details of the project
As a reminder, the Kinguélé Aval project concerns the design, financing, construction and operation of a hydroelectric power station 100 km east of Libreville on the Mbéi River.
Led by Asonha Energie, a project company owned 60% and 40% respectively by Meridiam and Gabon Power Company (GPC), the hydroelectric plant will supply approximately 13% of the electricity needs of Libreville, the capital of Gabon.
It will contribute to the replacement of existing thermal capacities and will save more than 150,000 tons of CO2 emissions per year. It will also contribute to the electrification of rural areas such as Andock Foula, thus contributing to social inclusion in Gabon.
Kinguélé Aval is Gabon's first power plant project designed as a public-private partnership, and a pioneering model that can easily be replicated in future projects of the same type in Gabon.
GPC currently has three other power plant projects in Gabon. The choice to recruit local workers as a priority, who will work alongside international experts, represents an investment and a commitment to the development of skilled employment in Gabon, in a context of economic diversification.
Source: directinfosgabon.com
---