France/Saint-Gaudens : Citizens' meeting
On Wednesday 22 September, at the initiative of Crédit Agricole, a citizens' meeting was held in Saint-Gaudens to discuss the subject of property investment.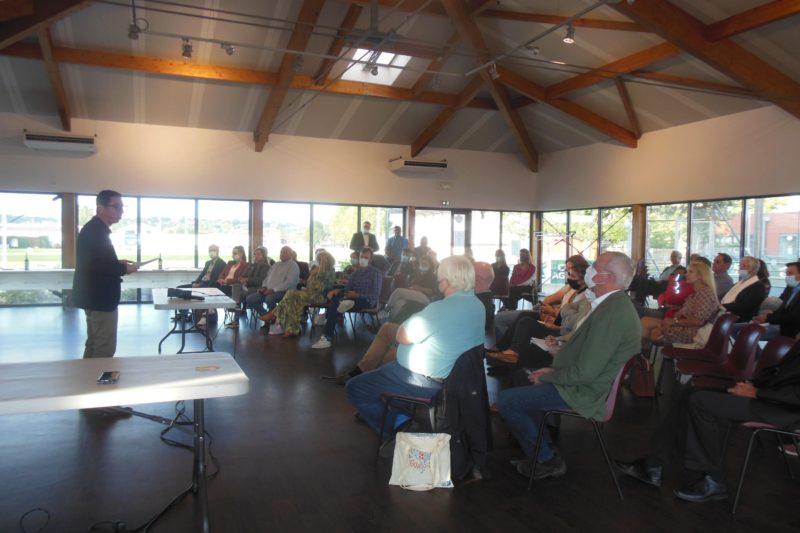 "We are a regional bank", said Pierre Saforcada (Director of the Boulogne sur Gesse, Gourdan-Montréjeau, Luchon and Saint-Gaudens branch groups), "if the region is doing well, we are doing well and we can continue to support its development".
The audience (about sixty participants) was made up of private and professional investors, real estate professionals, representatives of local authorities and the teammates and directors of Crédit Agricole Toulouse 31.
The first part of the meeting was chaired by Nicolas Agut, head of new property at Square Habitat, a subsidiary of Crédit Agricole. The meeting discussed the Pinel scheme (for new housing) and the Denormandie scheme, which is specific to a number of towns in France, including Saint-Gaudens, which is eligible for this scheme due to its ORT agreement (Opération de Revitalisation de Territoire), which facilitates the renovation of housing stock in order to revitalise the areas of medium-sized towns.
These measures meet societal objectives and challenges: a structural need for housing and affordable rents.
The second part of the meeting focused on energy renovation, led by Vincent Germa who is the Rénov'Occitanie advisor for the Muret agglomeration, replacing Denis Verdier, the local advisor for Saint-Gaudens.
The energy renovation concerns the insulation of the bottom floor, the attic, the walls, the windows, the heating and/or hot water appliances and the ventilation.
Several aids can be provided to individuals:
FAIRE: public service that guides you free of charge in your energy renovation work.
ANAH: help for low-income homeowners
Ma PrimeRénov': calculated according to income and the ecological gain of the work
One-stop shop: Renov'Occitanie will allow you to get information by phone or by interview in order to know the aids which can be allocated to you within the framework of the renovation. This organization provides financial, technical and administrative support and can also assist you with an energy audit or a contract to assist the project owner (paying services, a large part of which is covered by the Region).
You can find all these schemes and detailed renovation aids on the links below:
https://www.maprimerenov.gouv.fr/
https://monprojet.anah.gouv.fr/
https://renovoccitanie.laregion.fr/
Guichet Rénov'Occitanie en Comminges 21 Place du Foirail 31800 Saint Gaudens Tel : 06 40 33 27 78
Mail :renovoccitanie@commingespyrenees.fr
Source: www.petiterepublique.com
---