Tunisia/Ezzahra gets a supplementary hospital: When local elected officials play their full role
It should be noted that the initiative is totally local and is not part of a strategy of the central authorities. The initiative taken by the mayor of the city demonstrates, in particular, that when local elected officials decide to take their responsibilities, decentralization, institutionalized by the 2014 Constitution, can work and bring the expected positive change in communities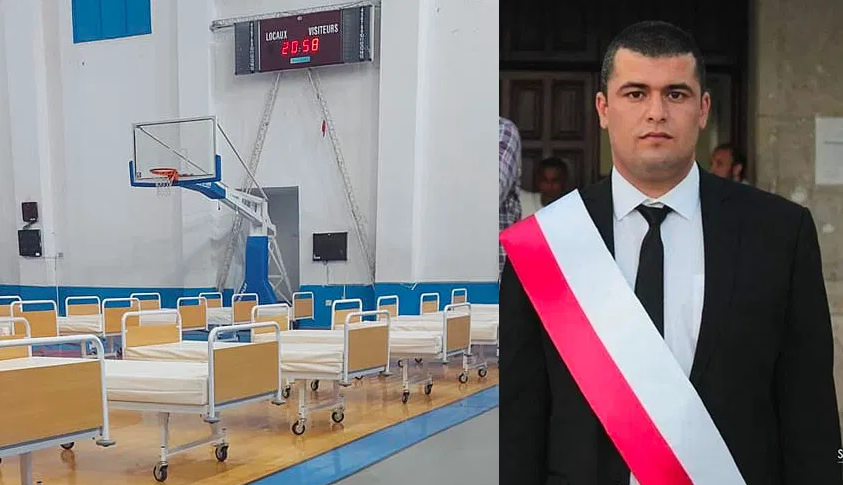 Small peaceful suburb, the city of Ezzahra (governorate of Ben Arous), formerly Saint-Germain, is best known for its passion for the orange ball. The mythical indoor basketball hall has seen many high-flying games and the players have lifted multiple trophies over the years. In 2021, the women's team even managed to win a historic double, cup and championship.
Today, this hall, where the chants of zealous supporters still resound, will become the scene of a new kind of challenge, but one that is just as important: the war against the pandemic that is paralysing the country and causing families to mourn.
The mayor of the city, Rayen Hamzaoui, the youngest Tunisian mayor, announced on Monday the transformation of the covered hall of Ezzahra into a field hospital. "I have discussed with local businessmen, doctors, etc., I have discussed with local businessmen, doctors, etc., and all are ready to equip this field hospital, so that it can accommodate as soon as possible patients Covid-19, whose situation requires hospitalization, "said Rayen Hamzaoui.
As soon as this news was announced in these very special circumstances, actions joined words. The local associations, but also all the residents, spontaneously mobilized and responded to the call of the town hall.
Yesterday, thanks to the generosity and sense of responsibility of several businessmen who were sensitive to the mayor's approach, some twenty beds have already been assembled on the floor of the covered hall. For the moment, the total cost of the operation exceeds 100,000 dinars.
It is a field hospital with twenty over-equipped beds," explains Rayen Hamzaoui. There will obviously be volunteer doctors alongside doctors who will be present on a permanent basis.
The town hall hopes that this auxiliary hospital will be operational tomorrow, Saturday. It should also be noted that the initiative is totally local and is not part of a strategy of the central authorities.
On social networks, a group was created to set the needs of the field hospital and make an appeal for donations. "Here is a tentative list of our needs for those who wish to contribute to the establishment of the field hospital:Oxygen concentrators, oxygen goggles, oximeters, bibs, gloves and disinfectant gel," the chat group named "Ezzahra" read.
According to the latest statistics from the Ministry of Health, more than 40% of tests conducted in the governorate of Ben Arous are positive. "It is clear that the situation is worrisome and as local elected officials, we could not stay idle until the storm passes, we have a duty to act.
The initiative taken by the mayor of the city demonstrates in particular that when local elected officials decide to take their responsibilities, decentralization, institutionalized by the Constitution of 2014, can work and can really bring the expected positive change in communities.
Source: lapresse.tn
---