Haiti - Politics : Memorandum of understanding signed with Saudi Arabia
As part of the Saudi Arabia / CARICOM summit held on November 16 and 17 in Riyadh, Prime Minister a.i. Ariel Henry and the Chairman and CEO of the Saudi Fund for Development (SDF), Sultan Abdulrahman Al-Marshad, signed a memorandum of understanding to strengthen cooperation between the two countries, notably in health, infrastructure, energy, water resources and tourism.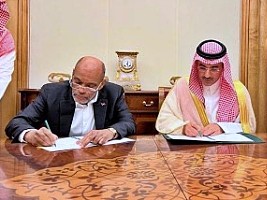 This protocol is part of SFD's efforts to support small island developing states around the world.
aims to open up new horizons for development cooperation in order to contribute to the development of vital sectors in Haiti, and also embodies the will to tackle the challenges that stand in the way of Haiti's development process.
This protocol confirms the importance of international cooperation and solidarity in achieving sustainable development, in order to help strengthen social growth and economic prosperity.
It is worth noting that the SDF has been delivering development activities in CARICOM member states for almost 40 years. Since the beginning of 2023, the Saudi Fund has been active in selected CARICOM member states, financing some $670 million for the development of 12 projects and programs.
Since its creation, the SDF has financed over 800 development projects and programs worth more than $20 billion, in more than 100 developing countries worldwide.
Source: www.icihaiti.com/
---