Switzerland supports decentralization in Ghana
Switzerland intends to support Ghana in its decentralization efforts. To this end, it will provide conditional contributions and technical assistance of up to CHF 27.8 million between now and 2027. This was decided by the Federal Council on September 15, 2023. The Swiss contribution is intended to finance infrastructure projects such as emergency centers and kindergartens.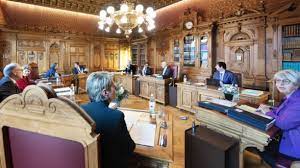 The services provided by local authorities make a decisive contribution to a country's economic development. Yet the financial resources and skills of local authorities in developing countries are often insufficient to meet even the most basic needs of the population. The aim of decentralization reforms is to give municipalities the means to finance infrastructure projects that provide services to the population.
Since 2002, Switzerland has made Ghana a priority country for economic cooperation and development. Since 2017, it has been supporting, through the State Secretariat for Economic Affairs (SECO), the decentralization process launched by the Ghanaian government, one aspect of which involves setting up a system of financial transfers to communes. While Ghana is responsible for transfers intended to cover the basic needs of communes, Switzerland supports performance-related transfers, which are paid to communes once they have succeeded in improving their financial management and services.
The Ghanaian government conducts an annual audit of all communal tax administrations to assess progress. The Swiss contribution supports this incentive structure and finances infrastructure projects such as emergency centers, kindergartens and communal services in various communes. In addition, training and further training courses in financial management and planning are offered to employees of municipal administrations.
For the decentralization process to be effective in improving public services for the population, the latter must be able to hold the communes to account. Holding local authorities to account is a key element of decentralization, as it increases the likelihood that spending is carried out in the interests of the population. This is why Swiss aid will now support these processes at commune level, and empower the population to demand accountability through awareness-raising and capacity-building measures.
The project is part of Switzerland's international cooperation strategy 2021-2024, and aims to strengthen public financial management and public services in partner countries with a view to sustainable economic growth. It will be financed by resources already allocated to economic development cooperation.
Source: www.admin.ch/
---