Mauritius/Training in June: discover agroecology and local cuisine with Eco-Sud
The fragility of food security, highlighted in particular during Covid-19, led the NGO Eco-Sud to reflect on the issue, resulting in the implementation of a Resilient Organic Community project in Ville-Noire, Mahébourg, a village in the south-east of France whose inhabitants were affected by the sinking of the MV Wakashio.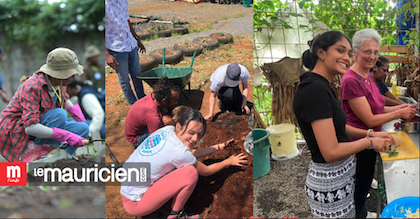 The challenge of local subsistence in the face of external factors has given rise to an agroecology project designed to increase community resilience and nutritional independence.
Grow your own food and consume what's at hand. In this way, we can reduce the risk of food emergencies that hang over the heads of an interconnected world.
With this in mind, Eco-Sud will be offering two training courses in early June: an introduction to agroecology and to local cuisine.
"The ROC project meets one of our strategic objectives, which is to increase food security and sovereignty through agroecology," explains the NGO. "We want to build the capacity of communities, people, farmers and citizens so that they can increase their sovereignty over what they eat."
Agroecology training involves learning how to farm in a way that respects the soil and its minerals. This is achieved through the cultivation of various plants. To this end, four days of immersion and participation are offered to discover techniques and approaches for sustainable and regenerative agriculture.
This is followed by a four-day training course in local cuisine, in which participants rediscover the techniques and recipes of yesteryear. These include the little-known use of vegetable and fruit parts to make delicious dishes.
"This introduction to local cuisine is a culinary approach that highlights adapted local products. The aim is to pass on local know-how, using products from the agroecological center," explains Eco-Sud.
Registration closes on June 1, and training courses will be held from June 6 to 9, from 8.30 a.m. to 1 p.m. The fees paid for the courses will be used to enable other interested parties, who do not have sufficient means, to access this initiation.
To register, click here.
Source: www.lemauricien.com
---