Security and resilience in Burkina Faso: The program to support the stabilization of the Ouaga-Kaya-Dori-Djibo axis launched
The Minister Delegate in charge of the budget, Fatoumata Traoré, launched the support program for the stabilization of the Ouaga-Kaya-Dori-Djibo axis (OKDD), this Thursday, March 16, 2023 in Kaya, in the Centre-North.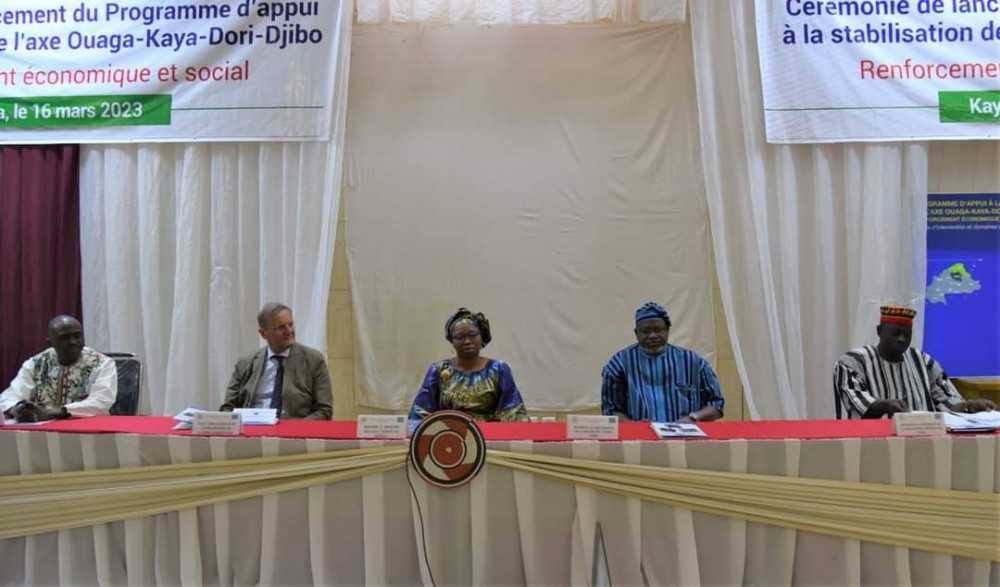 This program is the result of a partnership between Burkina Faso and the European Union (EU). It aims to strengthen the security and resilience of populations affected by the security crisis on the OKDD axis.
The overall objective of this launching workshop is to allow the different actors implementing the project to be able to start their activities according to the contracts signed with the EU. It was specifically to present the project and the operators of its implementation to the beneficiaries; to examine and validate the coordination and monitoring mechanism of the projects; to proceed to the official launching of the said project.
"The Ouaga-Kaya-Dori axis stabilization program is a program that has been in preparation for several years. It is a program that will enable the securing and development of socio-economic activities on the Ouaga-Kaya-Dori axis," said Fatoumata Bako Traoré.
This program will be implemented through four sub-projects. These are: the employment and skills territory project; the project to consolidate social ties, accountability and community security; the project to strengthen socio-economic resilience; and the project to improve the quality of life of the population.silience; and the project to strengthen the resilience of vulnerable populations affected by the security crisis and the effects of climate change on the OKDD axis.
Addressing the root causes of the security crisis
According to the EU ambassador to Burkina Faso, Wolfram Vetter, the idea is to provide a concrete response and support to the most vulnerable population in the two regions through projects to strengthen social cohesion.
"There are several thousand people who have benefited from vocational training and also in terms of job creation. There are about 5,000 people who have been trained," he said.
Regarding the security field, the diplomat reassured that there are several things that are being implemented. "We consider it extremely important to attack the root causes of the security crisis. There is social cohesion that we are trying to support and accompany. There are other issues such as access to land, community conflicts where we will be very active," explained Wolfram Vetter.
The North Central and Sahel regions are the most affected by the humanitarian crisis. With approximately two million internally displaced persons (IDPs) as of January 31, 2023, these two regions account for 25.2% and 25.4% of the people affected, respectively.
Source: lefaso.net/
---