Niger/Launch of the digital community center in Dosso
On Monday, December 5, 2022, the urban commune of Dosso was equipped with a digital community center thanks to funding from the European Union through the National Agency for the Information Society (ANSI). Worth 1.3 billion CFA francs, this project will cover the cities of Dosso, Maradi, Zinder and Tahoua and aims to promote the use of information and communication technologies to support economic development. More specifically, it aims to develop a quality digital education, equitable and useful for the expansion of economic activities throughout the country.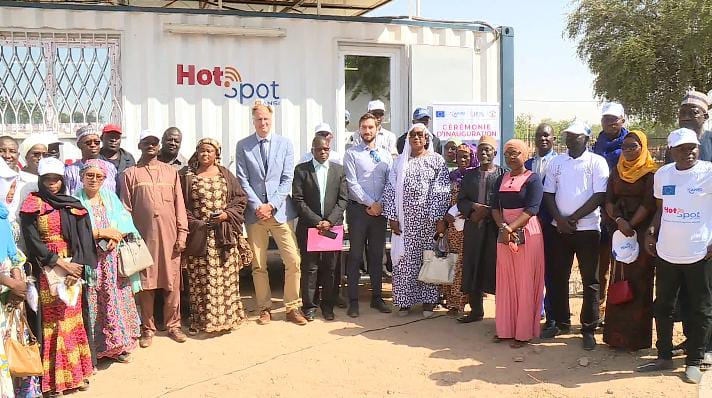 In his welcome speech, the 2nd Vice Mayor of the urban commune of Dosso, Mr. Ismael Tahirou, was pleased with the choice of the city of Djermakoye to host this ceremony. Throughout his speech, the 2nd vice mayor of the town of Dosso dwelt at length on the importance of digital technologies, which he said are increasingly hopeful and play a catalytic role in achieving the objectives of sustainable development by 2030.
Taking the floor in turn, the representative of ANSI spoke of the mission of his agency which is to design, monitor and evaluate all options for information development. This center in Dosso, he said, will serve for large-scale training in office tools, cyber security and computer literacy for a period of three months.
Proceeding to the launch of the community center of Dosso, the representative of the Delegation of the European Union in Niger Mr. Christian Frigeard Rasmussen said that the European Commission during its installation in 2019, has included among its priorities the idea of a "digital Europe" adapted to the digital age. This same priority, he explained, has been taken up in the external policy of the European Union, demonstrating the will to integrate a digital dimension in the majority of the European Union's policies.This same priority, he explained, has been taken up in the European Union's external policy by demonstrating the willingness to include a digital dimension in the majority of its projects and to fund projects that allow partner countries such as Niger to increase the rate of access to digital services.
Moreover, continued the representative of the European Union, the COVID 19 pandemic that hit the world between 2020 and 2022 has shown the importance of digital in many sectors such asin many sectors such as education which in some countries could continue only through the use of distance learning. M.Christian Frigeard Ramussen expressed the hope that this ceremony is only the beginning of a closer engagement in the digital field between the European Union and Niger while hoping that the impacts on the socio-economic life of the Dosso region will be sustainable.
Source: www.anp.ne/
---