Canada/Bruno Marchand unveils 2023 budget marked by inflation
While the previous budget was a post-pandemic recovery budget, the 2023 budget is marked by the inflationary context and the disruption of the global economy. Despite a 7% increase in spending ($116.4M), Mayor Bruno Marchand anticipates being able to balance the budget.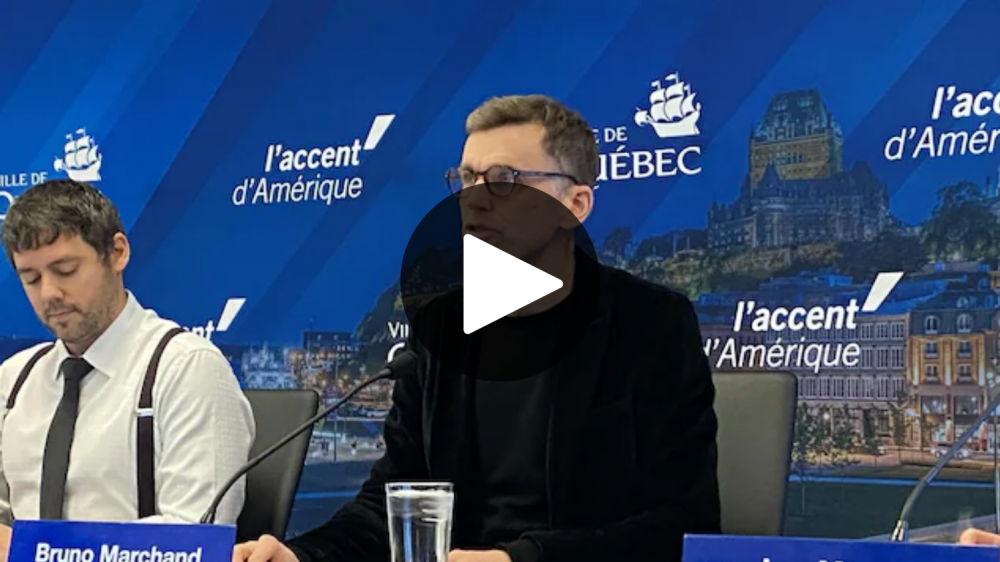 This was the first budget entirely concocted by the Marchand administration, since the previous one was strongly influenced by the team of outgoing Mayor Régis Labeaume.
Of the $116.4 million increase in spending, $45.8 million should be devoted to services for citizens, such as waste management and the start-up of the future biomethanization center. The City plans to invest an additional $10.0 million in snow removal in 2023. It expects to spend an additional $31.2 million due to inflation.
Finally, Mayor Bruno Marchand announced the creation of a new $15 million infrastructure reserve to address climate change. The City would like to raise $300 million in this fund by 2028.
This additional expenditure is necessary according to the Mayor. Either we wait and it's going to cost more, or we start now and it's going to cost less, we're going to plan better," he said.
Impact on the wallet
The Marchand administration has limited the tax increase to 2.5 per cent for residential and non-residential, which means that Quebec City homeowners will pay $74 more in municipal taxes than in 2022.
On the other hand, the City of Quebec was left with a shortfall of nearly $38.1 million in its coffers.
The city plans to recover this amount by reducing its expenditures by $11.2 million, by collecting an additional $11.8 million in transfer tax revenues and by drawing $13.3 million from its budgetary reserves.
Bruno Marchand defended his decision not to increase taxes beyond 2.5%, reminding us that inflation in Quebec City is close to 6%, and that other cities have made higher increases.

This context [inflation] is also experienced by citizens, we did not want to add to it," he said.
Quebec City has decided to increase the hourly rate for its parking meters from $2.50 to $3.00 per hour starting in 2023.
The cost of purchasing a parking sticker on Quebec City streets will also increase, from $82 to $120. However, the $153 rate for merchants will be maintained.
Economic turmoil
During the technical briefing for the media, City Manager Luc Monty referred to turbulent economy" to describe the inflationary environment and rising interest rates that have marked the past year.
It's affecting our spending and we have to take that into account," he said. The intention was that, in the face of this, the City would protect taxpayers as much as possible from a sudden increase in the tax bill in 2023.
The Vice-Chair of the Executive Committee clarified his colleague's comments.
The budget is not in turbulence mode at all. It is economic turbulence due to external factors," maintains Pierre-Luc Lachance.
A ten-year development plan
Quebec City unveiled its 10-year capital plan, which includes investments spread over 10 years. This plan is a first and replaces the five-year plan.
More than half of the $10,114.6 million that the city plans to invest between now and 2032 is devoted to mobility, including the Quebec City tramway ($3,492.0 million), maintaining the operations of the RTC
operations ($738.8 M), its electrification ($609.6 M) and its development projects ($229.4 M).
The objective of this PDI is to have a consistent planning process, for which we will have the right amounts to deal with the projects we want to deliver," said Pierre-Luc Lachance, vice-chairman of the executive committee.
Half-hearted reaction from the opposition
The parties Québec d'abord, Québec 21 and Transition Québec want to take the time to study the budget in committee of the whole before pronouncing themselves in favour or against.
I find that we have not launched into the open bar of spending, says the leader of Quebec First, Claude Villeneuve. He is pleased that his fears of seeing Mayor Marchand adopt a form of budgetary austerity have not materialized.
However, he criticizes the increase in parking meter fees and parking stickers, which he believes will mainly penalize citizens in central neighbourhoods.
He is also skeptical of the City's decision to adopt a ten-year capital plan. Putting projects on the IDP
does not guarantee that they will be completed, he said.
Councillor Stevens Melançon of Quebec 21 is also unconvinced by the IDP,
which he describes as an indeterminate development program.
Over five years, it's hard to come up with the figures, there are so many variations, and we're going on ten years," he said.
Quebec 21 criticizes the use of budget reserves.
Councillor Jackie Smith, of Transition Québec, describes the Marchand budget as conservative.
While she is pleased that the mayor has limited the tax increase, she criticizes its lack of ambition on the fight against climate change.
Source: ici.radio-canada.ca/
---