France/Education for sustainable development: Auray moves up a gear
The Auray district (Morbihan) was awarded the E3D label (Establishment in the process of sustainable development) on Tuesday 21 June 2022. It is the first territory of the Rennes academy to obtain this distinction.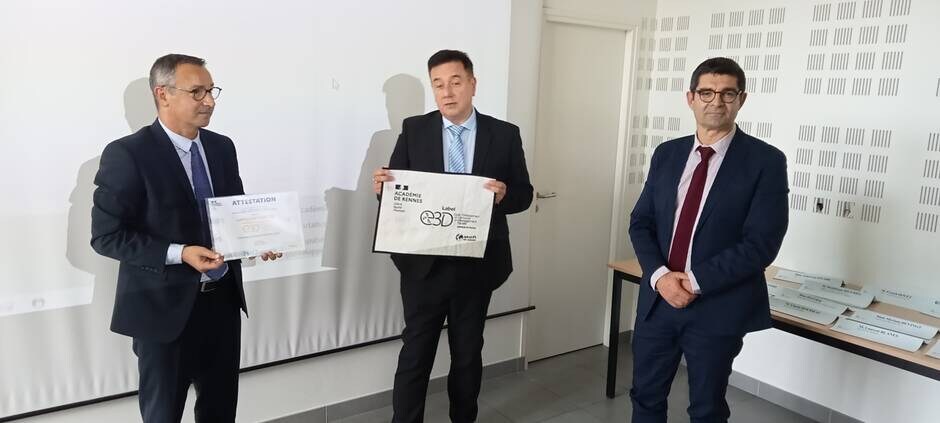 Judging by the panel of personalities represented at the ceremony, the theme of education for sustainable development (ESD) has become a major issue! A ceremony was held on Tuesday, June 21, 2022, in the Hélène-Branche room in Auray(Morbihan), presided over by the rector of the acadéEmmanuel Ethis, several national education officials, representatives of municipalities and of the two inter-municipalities, including Auray Quiberon Terre Atlantique (Aqta).
A first
The moment was indeed important: the Auray district has obtained the E3D label (Establishment in the process of sustainable development), usually awarded to an establishment. But this is the first time that a whole territory of the Rennes academy has obtained this distinction. It recognizes the involvement of the teaching community, but also the awareness of students, parents, and educational partners to environmental issues.
Labeling of the territory
We must "give young people the desire for a future rather than the fear of a future," said the rector of the academy.The objective, which has been recurrently mentioned for several years now, is sustainable development. To this end, the label has been created and awarded to schools and establishments that take this approach.
Here, we change dimension," explains Emmanuel Ethis. It ' s a territorial label, which means that it's aimed at the 1st er degree district of Auray, which includes 24 municipalities and their 2 inter-municipalities, i.e. 28 schools and 7 public colleges, 22 private schools and colleges, 4 high schools, i.e. 6,400 students. "
The stakes
The objective of sustainable development aims to cover three fields: social, economic and environmental, awareness of eco-citizenship, education for sustainable development at the service of learning, etc.
The device will notably act and ensure the educational continuity for the pupils of the Auray region. From school to high school, they will be awakened to environmental issues, especially through partnerships such as the Grand Site Dunaire or the Regional Natural Park of the Gulf of Morbihan.
Source: www.ouest-france.fr
---