Algeria/Citi launches supply chain financing linked to sustainable development in Algeria
Citi launched its first Sustainability Supply Chain Finance (SSCF) program in the Middle East and North Africa (MENA) in Algeria to help clients strengthen their ESG (environmental and social governance) priorities, improve the resilience of their supply chains, and manage their working capital needs.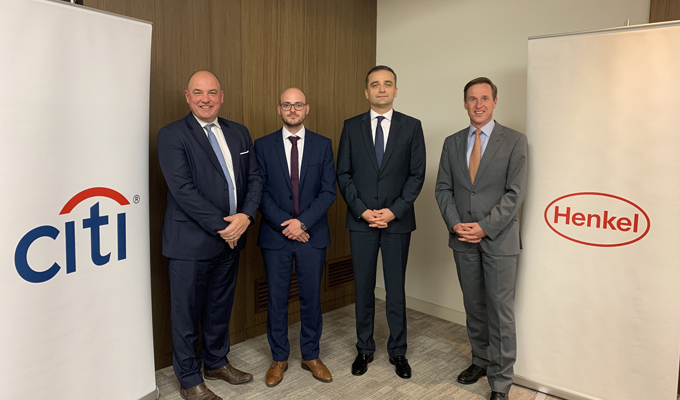 Supply chain finance (SCF) programs benefit both companies and their suppliers by prioritizing their working capital, respectively.
Using Citi's SCF program, for example, the bank would provide financing to a customer's suppliers from the date of collection of specific goods/services to the date payment is due to those suppliers.
The cost of this financing is thus provided by the suppliers at a lower rate than their usual cost of financing. As a result, suppliers benefit from accelerated cash flow, faster payment and improved financing costs.
Citi's first SSCF program introduced in the MENA region was implemented for German chemicals and consumer goods company Henkel. The program was initially launched with suppliers in Algeria and will expand to include other markets and suppliers in the coming months.
The program is also a first for Henkel in the MENA region and is aimed at existing or new suppliers demonstrating strong or improving sustainability performance. Eligible suppliers can access Citi supply chain financing at preferential rates, improving as a supplier's sustainability score progresses.
With the support of a world-leading sustainability rating agency, Henkel will periodically assess the sustainability performance of its suppliers.
Commenting on the collaboration, Bülent Pehlivan, Regional Finance Director - India, Middle East and Africa, Henkel, said: "With sustainability at the core of our business strategy, we are engaging in a range of activities with new ways to thrive and innovative solutions to create value.
We are delighted to collaborate with Citi to introduce a sustainable supply chain finance program for the first time in the region. Launched first in Algeria, we are committed to continue implementing it in other countries in the region in the near future."
Citi's SSCF program in the MENA region is indeed aligned with the bank's ESG commitments. To help accelerate the transition to a global low-carbon economy, Citi launched its updated Sustainable Progress Strategy in July last year, which includes its US$500 billion global environmental finance target.
Citi also recently made a Sustainable Finance Commitment by 2030, totaling US$1 trillion, which includes the environmental finance goal as well as a US$500 billion social finance goal.
"We are proud to collaborate with Henkel on this first SSCF program in the MENA region. It is really pleasing to see that Henkel and Citi share a common strategic focus on ESG. At Citi, we look forward to this partnership and this great venture with Henkel ensuring that we continue to adapt and develop our ESG solutions even further," said Dave Aldred, Head of Treasury and Trade Solutions MENA, Citi.
"We are delighted to partner with Henkel and help them achieve their sustainability goals through the launch of the first sustainable supply chain finance program for Citi in the MENA region. Like Henkel, our ESG commitments are an essential part of our company's strategy and we pledge to provide innovative ESG solutions to our clients and to expand the use of our sustainable supply chain finance program in the region.We are committed to providing innovative ESG solutions to our clients and to expanding the use of our sustainable supply chain finance program in the region," said Marcel Hanen, Regional Head of the International Subsidiaries Group, Citi - Middle East, North Africa, Pakistan and Turkey.
Source: www.webmanagercenter.com
---