Vietnam/Need to improve the effectiveness of e-learning
In the midst of the COVID-19 pandemic, as schools in several localities are temporarily closed, e-learning has become the optimal solution to ensure continuity of studies. However, e-learning poses local challenges for teachers and students.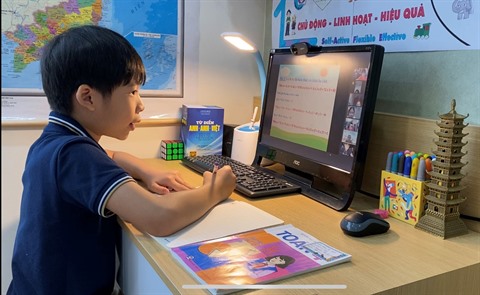 For first-grade students, e-learning is a challenge for both teachers and parents.

Dô Minh Thu, a teacher and deputy principal of Hoàng Diêu Primary School in Hanoi, said, "Students in the first grade face a lot of difficulties because they did not know each other before and have to learn new curricula. According to her, in an online course, many students may miss a lot of things they want to learn because of a loss of connection.

There are too many difficulties and challenges in teaching and learning online. Making e-learning effective requires efforts not only from the education sector, but also from many other parties involved.

This new way of learning requires every teacher to constantly seek the attention of students.

Nguyên Van Chung, a teacher at Hoàng Mai Secondary School in Hanoi, said: " From the way lessons are prepared to the methods of teaching and organising lessons, it is necessary to introduce changes so that students are enthusiastic about participating in online learning. "

Improving methods and strengthening the application of technology in teaching and learning will bring progress to online learning.

Nguyên Trâm Anh, deputy principal of Hoang Mai Secondary School in Hanoi: " In order to increase interaction between students and teachers, we are leveraging computer applications so that students and teachers can interact regularly."

Given the impacts of COVID-19, technology is one solution to improve online learning. But for e-learning to be truly effective, it requires the efforts and cooperation of the whole society.
Source: www.lecourrier.vn/
---