Reunion / Revitalization of shops: the Cinor launches the "Ma Boutique à l'Essai" scheme
The "Ma Boutique à l'Essai" scheme, aimed at revitalising shops in town centres and neighbourhoods, was presented on Tuesday 12 October 2021 by Initiative Réunion, at the Maison intercommunale des services de Beauséjour. The aim is to provide support for a period of one year, with benefits, to a project leader wishing to open a local shop. A first which was held in the presence of the President of the Federation of Boutiques à l'Essai, the financing partner, the Cinor, and other actors, namely the town hall of Sainte-Marie, the Maison de l'Emploi du Nord de La Réunion, the Pole Emploi, CBO and the CCIR.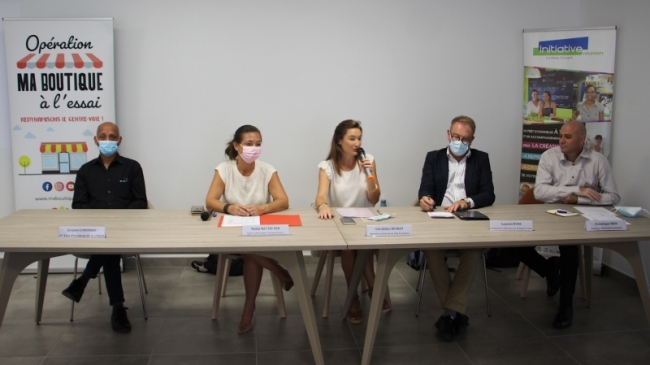 This operation is open to any project owner who wishes to open a local business (excluding restaurants). Within a pilot shop, he will be able to test his idea and his market for a period of 6 to 12 months. This will be possible thanks to an exceptional lease (6 months, renewable once), a reduced rent (from 20 to 30%), works and services (accountant, bank, insurance, communication...) at preferential prices, as well as support for business creation.

- Provision of a new and fitted out premises -
Prior to the test phase, they will receive support in putting together their application and expertise from a committee of business creation experts including Initiative Réunion, the Réunion Chamber of Commerce and Industry, the Maison de l'Emploi Nord and the Pôle emploi.
In addition to the support, the other advantage of the scheme for the future trader is that, thanks to CBo Territoria's action, he or she will benefit froma new and equipped premises and to have the possibility of keeping the premises if the sustainability of the test is proven
The scheme is then deployed on another vacant premises in the city centre. The call for applications has been launched until 15 December 2021 and concerns a 63m2 premises, located on Avenue du Beau Pays in Beauséjour
-"Small shops, the soul of the cities" -
The action is financially supported by the CINOR whose will is to participate in the dynamization of its territory by setting up a policy of valorization and help by the establishment of new shops in the districts or in the city center.
Through this commitment, the community is mobilizing to give impetus and momentum to economic and social integration through entrepreneurship.

In view of the success of the operation in the metropolitan area, designed to bring retailers back to the city centre, "Ma Boutique mon Quartier" has since been launched. The philosophy is the same: to encourage the entrepreneurial spirit in working-class neighbourhoods.
"At the Cinor, we plan to mobilize also within the neighborhoods of member cities because it is important to us to support these small businesses that contribute to the local economy and their human approach promoting social ties," expresses Jacques Lowinsky, 1st Vice President of the Cinor. "They are often the ones who create the authenticity that gives towns their soul", he adds.

- "Facing the reality of the market" -
Initiative Réunion also provides technical and operational support to towns and agglomeration communities to ensure the success of the operation, to create the event and to revitalise their town centre by involving local players.

For the shopkeepers on trial, the operation is also a unique experience. "It will enable the candidates to confront the reality of the market, to discover the trade of the shopkeeper and often to develop new skills", explains Dominique Séry, director of Initiative Réunion.

Assistance for the project holder:
- support in shaping their project
- new, fitted-out premises
- access to a 0% interest rate loan
- personalised support during the period of testing their project
- preferential rates on certain items (communication with MULTIPUB.RE, bank charges,... )
Source: www.ipreunion.com
---