Benin/1 billion 200 million CFA francs to support the dynamic Oswald Homeky
Special Friday for the Ministry of Sports and Beninese sport in general. This day of October 15, 2021 marks the signing of a historic partnership between the mobile phone network MTN Benin and the Ministry of Sports.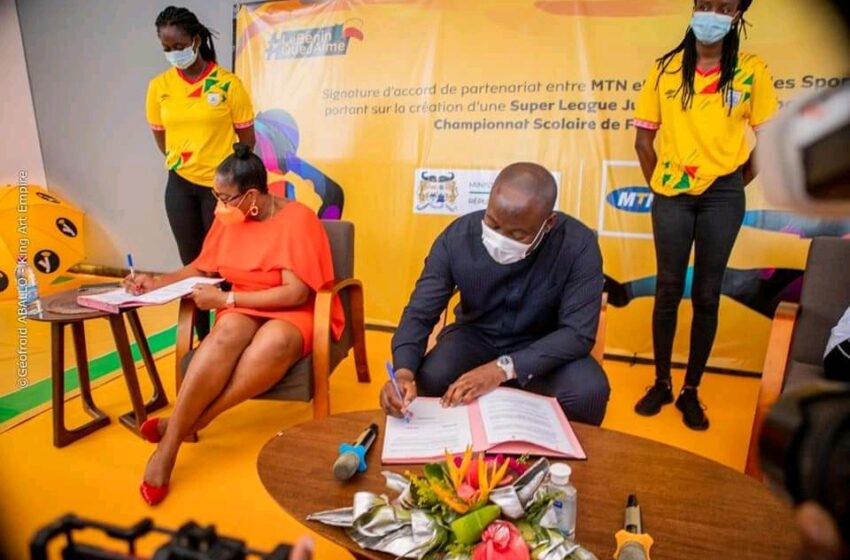 1 billion 200 million CFA francs is what MTN Benin is committed to release over the next three (03) years to support the ongoing dynamics in the field of promoting sports at the grassroots level, especially football and basketball. MTN Benin will contribute 100 million CFA francs each year to the Beninese Office of School and University Sports (OBSSU) to support the organization of the national school football championship and 300 million CFA francs to the Beninese Basketball Federation to support the development of the sport at the grassroots. The convention signed between MTN Benin represented by the General Manager, Mrs. OFODILE and the Ministry of Sports represented by Mr. Oswald Homeky, is the result of several months of work and exchanges between the two parties.
It is with great emotion that the Minister of Sports, Oswald Homeky thanked MTN Benin, for having understood the vision of the government, which is to do things with structuring and planning based on results over time. He recalled that this partnership which will be renewed at the end of three years. "The revolution of basketball and football at the grassroots, It's here!"This was the motto of the boss of Sports at the end of this ceremony which marks the beginning of a new era for the Beninese sport.
Source: megasportsmedia.com
---