Belgium/ Defence hands over to the Red Cross for the distribution of meals
Three months after the floods, the military are handing over the torch to the Red Cross for the distribution of 12,000 meals to those affected. A page is turned for the population. "They listened to us. Just talking to them raised our spirits," says Rina Filippucci, a disaster victim. Franco Gerarchini continues: "I really appreciated their work. For example, they used to go from 7 a.m. to distribute meals to the elderly and disabled people of the village who could not go out.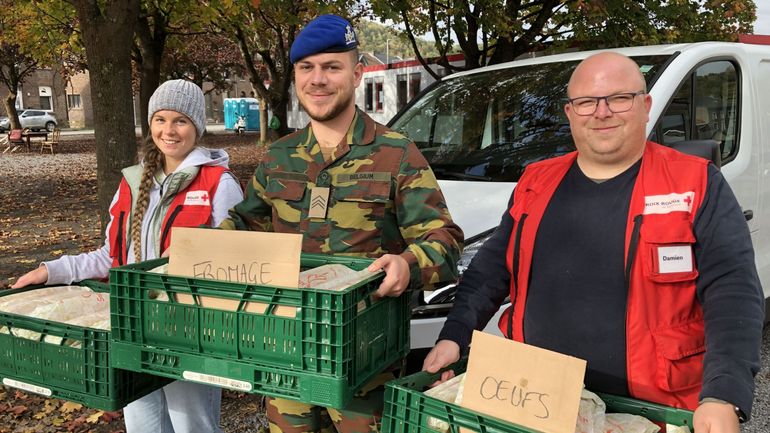 Double the number of volunteers
In terms of organization, the Red Cross has adapted. Guillaume Deprez, head of the food aid project for the Red Cross, explains: "Last week, 80 people were mobilised and with the withdrawal of the Defence, we need to mobilise twice as many people".
A personal enrichment for the soldiers
For the soldiers, the distribution of the meals was a beneficial experience: "Especially the contact with the population was extremely enriching," explained Maj. Pierre-Yves Van Obberghen, from the 4th Logistics Battalion of Marche-en-Famenne. "Our soldiers were able to work with many other actors. This allowed us to enrich ourselves on a personal level. We were also able to intervene in a crisis in our own country.
You can reinforce the teams
As we were able to see at the Red Cross crisis centre, set up in the building of the former Clinique de l'Espérance, in Montegnée, a meal distribution cannot be improvised. The Defence has expertise that it passes on to the Red Cross, which needs volunteers to be able to cope with the coming months. Christian De Coster, director of the Red Cross flood unit, explains: "Everyone is welcome but we are also thinking of mobilising sports teams to take charge of a distribution point in the evening. These people are already team players. They just need to carry out this mission in the spirit of the Red Cross.
In a crisis situation, the Red Cross and Defence are never far apart. If necessary, the two organizations will work together again.
Source: www.rtbf.be
---