France/Local authorities: conquering major sports events
The Tour de France in Brittany is a major event for the municipalities it passes through, which expect positive spin-offs. The same fervour can be observed with the prospect of France hosting the Olympic Games in 2024.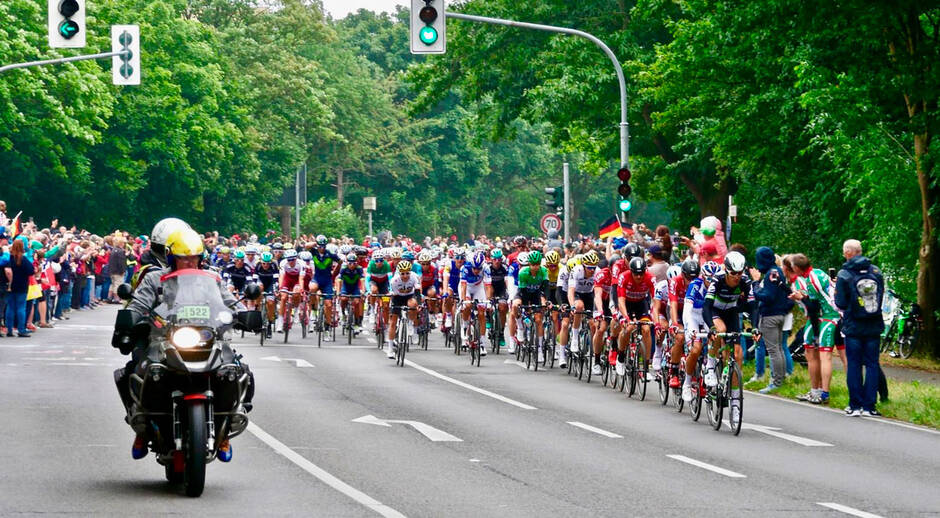 An internal dynamic to welcome the Tour
In order to make a success of the Tour de France's visit to a town, the elected representatives must mobilise all local energies. It is the magic of the Tour that it facilitates collaborative work with associations and shopkeepers. Often ephemeral, this moment of great popular fervour undoubtedly generates a social bond around it. During the time of the Tour, relations between users and municipal services are pacified in order to showcase its territory and ensure public safety by exercising exceptional police power over the use of public space for several hours. From these intense moments, new partnerships are born that are destined to last.
The impact of hosting the Tour
Hosting the Tour requires financial and logistical resources. The specifications for a major event are necessarily demanding to ensure the safety of the athletes and the public. It is not surprising to see the roads being brought up to standard and some urban developments being adapted. The local authority has to set up a "major event unit" very quickly to unite all the energies and to put in place an organisation that will overturn the agendas... Sometimes they have to give up because their agenda is too full, as Rennes decided for the start of the 2021 Tour. Generally, local authorities fight to be on the route of the Tour, which has obvious immediate benefits for the restaurant and hotel industries and in terms of brand image, particularly for tourists.
Local authorities involved in the 2024 Olympic Games
The 2024 Olympic Games in France are also mobilising local elected officials. There is a desire to welcome foreign delegations for the local economy and to attract the world's media. From now on, obtaining the "Land of Games" label will allow municipalities to relaunch a sports dynamic in conjunction with the federations and the Ministry of Sports. Like Cesson-Sévigné, in Ille-et-Vilaine, which is home to a French canoeing centre, this label will help to enhance and modernise a site that has been transformed into a preparation centre. In addition, it will give an obvious energy to the members of the local club and the families involved. This label is sought to defend sporting and ethical values.
Source: www.ouest-france.fr
---