France/Laissac to host neighboring "Stopover Villages" Tuesday, April 12
12
Avr.
On Tuesday, April 12, as is the case every year, the Villages stage of the sector will meet, and it is Laissac that will welcome its "comrades" for a day of work.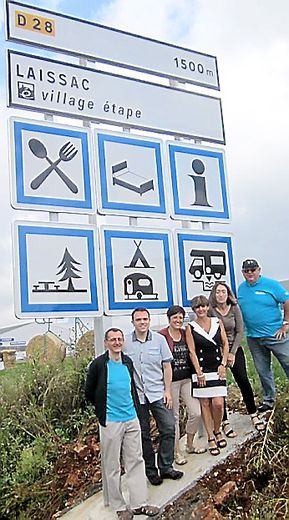 Laissac, Baraqueville and Naucelle for Aveyron, La Canourgue, Aumont-Aubrac, Florac (Lozère), Brens (Tarn) and Le Caylar (Hérault): On Tuesday 12 April, as is the case every year, the stage villages in the sector will meet, and Laissac will host its "comrades" for a day of work.
On the agenda: presentation of the action plan of the National Federation of Stopover Villages, visit to the town and its cattle market, workshops and discussions.
The day will also be an opportunity to present the action plan and projects for 2022. For example: the release of the Guide du Routard des Villages étapes in April, the communication of the label at the local level, the creation of an offer for family customers and the creation of a national observatory...
Laissac has been awarded the label for 6 years and, like all the other villages, offers an alternative to service areas with all the facilities required by motorists, plus the human touch! The members of the network will have the opportunity to test the reception organized by the territory's dynamic forces (shopkeepers, town hall, tourist office...).
More than a label, Village étape is also a tool for local development and a gateway for exchanges between the rural communes of France. There are 73 of them throughout the country.
Source: www.centrepresseaveyron.fr/
---