Morocco/Agadir-Ida Outanane: More than 6,300 households benefit from the "Ramadan 1444" operation
Some 6,300 needy families from rural and urban areas in the Agadir-Ida Outanane prefecture will benefit from the food support operation "Ramadan 1444".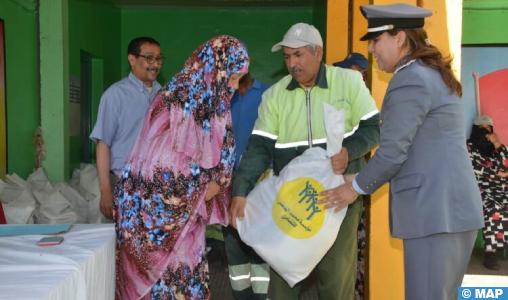 The kick-off of this operation, initiated by the Mohammed V Foundation for Solidarity on the occasion of the holy month of Ramadan, was given Wednesday, at the center of education and training "Amsernat" under the National Mutual Aid in Agadir, in the presence of several civil and military figures.
Implemented following the high instructions of HM King Mohammed VI, this operation of food distribution, concerns at the level of the Souss-Massa region, 79,000 households in rural and urban areas, an increase of 62 pc compared to the previous year (45.000 beneficiaries), told MAP, the regional coordinator of the National Mutual Aid in Souss-Massa, Kamal Fahd, ensuring that this operation is taking place in good conditions.
To carry out this operation the prefecture of Agadir-Ida Outanane has mobilized provincial and local committees, in addition to human resources under the delegation of National Mutual Aid, the National Promotion, the Nedharat Habous, Public Health and public authorities.
Each family benefiting from the operation receives a basket filled with 5 kg of rice, 6 liters of milk, 10 kg of flour, 4 kg of sugar, 5 liters of oil, 1 kg of lentils, 1 kg of pasta, 850 g of tomato paste and 600 grams of tea.
Organized with the financial support of the Ministry of Interior and the Ministry of Habous and Islamic Affairs, this national operation has become over time an annual appointment to to bring help and comfort to the most vulnerable social categories, including widows, the elderly and people with disabilities.
The operation "Ramadan 1444" is characterized this year by the increase, in accordance with the High Royal Instructions, of the number of beneficiaries, which went from 600.000 households during the previous edition to one million households, established in 83 provinces and prefectures of the Kingdom and 77% of which live in rural areas.
Source: www.mapexpress.ma
---